Kristek's Film Night(1)
10 August 2013, 4th station
Podhradí nad Dyjí became the venue for Kristek's largest event in 2013. Hundreds of people came together in front of Chateau Lubo, which was almost entirely covered by a tarpaulin. Only the piano on the apex of the roof thrust upwards towards the sky from the white cocoon. And so after an afternoon viewing of an exhibition of Kristek's works where the gallery was guarded by the now typical male figures in nuns' habits with assault rifles, the entire house became one giant projection screen. Spectators from the Czech Republic, Austria and Germany could watch a film showing a cross-section of Lubo Kristek's happening creations from the beginning in the 1970s up to the present day. They could watch, for example, films of his legendary Podhradí nad Dyjí happenings, his work abroad (Germany, Poland, Austria, Turkey, Belgium, etc.), and also the happenings that opened Kristek Thaya Glyptotheque.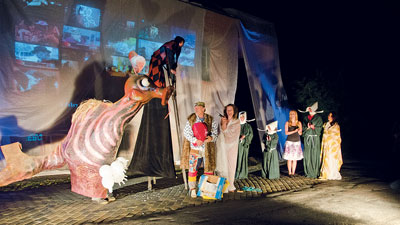 Other guests also performed as part of the programme, which lasted until one in the morning. The poet Svatopluk Řičánek (born 1944) read his work inspired by one of Kristek's happenings called Majesty Rage. Some characters from some events also emerged from the screen. The dancer from the Drosendorf happening appeared, and there was also an appearance by the triple nun from the Znojmo happening who once again divided into three beings through birth. The costumes from Kristek's "wedding" happening appeared, and Cosmos – the stilt walker with crutches and with three-metre crutches – towered above them all. The German press wrote: "The unbounded fantasy of the artist Lubo Kristek transported the audience to another, surreal world." (2)
As part of this event, a German edition of the catalogue Lubo Kristek: Happening Creation in the Thaya Valley was launched, the patrons of which were the emeritus director of the Landsberg museums Hartfrid Neunzert, Countess Francesca Pilati von Thassul and Count Gotthard Pilati von Thassul. The catalogue was christened with the water of the Black Thaya mixed with the water of the Thaya in Podhradí nad Dyjí. Kristek once again combined the muses in a thematic evening, and with this retrospective he commemorated his night vernissages, which were the start of everything. The evening meeting of the past and the present initiated a new stage of his future creation.