3 June 2006 at 9:30 p.m.
The happening in the Austrian town of Drosendorf was held in the chateau courtyard, at the entrance to which is located Kristek's wood relief carving Life.
A dissolute society in white masks sat at the tables and feasted on a virtual banquet, enthralled by the invisible material delights. The masks were the same, and they concealed the true identity and originality. A man and a woman broke away from the crowd. In their desire to escape the faceless society, they removed each other's masks. It was as if they no longer remembered what was underneath them. 
Kristek also painted unmasking as a revelation of own identity and exposure to the unknown in the painting Unmasking Because of Five Unknown Objects in the Sky (2009).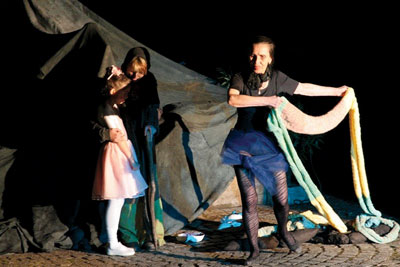 The freeing from empty stereotypes gave rise to a dance by the pair. In the next exhibition, the personified Thaya, now a little older, arrived in the company of an old woman from the first happening, her fairy godmother. In a dreamlike vision the fairy godmother showed her future to her in the form of a ballerina. The third and last transformation of the ballerina started a dance with a black figurine – with human fate. The dance culminated in the figurine's stomach being sliced open and the ballerina pulling an endless colourful scarf from it. After she had left it, remained as the mark of fate, a living fibre.
The loving couple picked up drums and filled the entire space with sound in a joint rhythm. Leaving the society and disrupting the stereotypes prepared the ground for unexpected experiences and transformation. The suggestive drumming lured a surreal fantasy world figure from the veiled fountain, the concealed source. The Fountain Man set off on a journey, and the members of the society removed their masks and joined him on his spider march.
This type of movement also appears in Kristek's other happenings. It is the walk of a crowd accompanied by joint, rhythmic drumming. We could interpret the spider march as the discovery of a new path, a transformation or transition. The walk is unsteady, the group sways back and forth, as if they were in an uncertain state of existence, on a threshold leading to a different reality. In The Space of the Soul II in 2001, on its spider march the crowd passed through an ear into a different reality, and in the happening The Gateway to the New Dimension in 2012, the group performed an act of defloration by ripping through the hymen separating the worlds and left the wrecked scenery for illuminated senses.
The procession of characters from the Drosendorf happening arrived at the veiled object, they ripped off the black sheet and revealed the wood relief carving Life, which they then carried into the light.
Video: happening at the 3rd station of the Glyptotheque
Text: Iveta K. Pavlovičová