Hat Procession(1)
3 August 2013, 2nd station
On a blazing August Saturday, when the temperature reached 37 degrees Celsius, a group of people met in Staré Hobzí in order to set off on a pilgrimage to The Wishing Stones, some 2 km distant. They wore fantasy hat creations. According to legend, the pilgrims bring their wishes to the 2nd station of Kristek Thaya Glyptotheque written on scrolls, which they insert in the holes of this sculpture made up of seven boulders. In the Hat Procession, the pilgrims carried their wishes hidden under their hats. Here once again, there is the motif of a magical item hidden in a case or costume, this time under a hat, which also served as protection from the blazing sun on the route. The magical effect of the concealed item was reinforced by the making of a pilgrimage.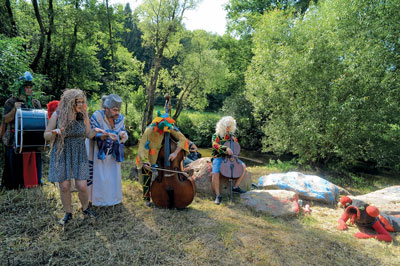 To an accompanying drumbeat (which in ancient cultures was considered an intermediary between man and the spirit), they set off down the road leading from the village. The journey was enlivened by the vocal performance of costumed characters – the physical poet Petr Váša and the singer Pavlína Švestková. More and more people joined in, and the singing procession turned on to the forest track leading to the woods.
The sounds of a cello and double bass(2) could be heard from The Wishing Stones in the clearing near the river that the pilgrims were approaching. The procession arrived at the pilgrimage site, a vocal-musical improvisation inspired by this station was played and the spectators joined in. A massive red and black worm appeared amongst the stones, just as on the day when this station was opened six years earlies. The paintwork of the stones was symbolically renewed, and then the creator of Kristek Thaya Glyptotheque appeared from it in a cloud of purple fog. The pilgrims inserted their scrolls in The Wishing Stones and whilst still wearing their hats they took a purifying bath in the Thaya.
Pilgrimages or processions tend to be a significant custom bringing society together, and they give their members a feeling of solidarity with the environment, with nature and with values. The spiritual dimension of a jointly taken journey lifts man above day-to-day reality and gives him strength to continue the further journey of life.